Enjoy your holiday and save time!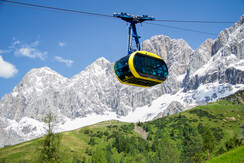 A reservation system for the gondola was introduced for the summer months May until September in order to deal with the large number of visitors over the summer months.
Reserving your trip up the Dachstein in the panorama gondola couldn't be simpler from the comfort of your home or using your smartphone!
Regular Bus from Schladming
We recommend a stress-free ride up to the Dachstein valley station on the RVB glacier bus (the use is free of charge for guests with "Sommercard"), departure from Schladming, Rathausplatz. You're welcome to park your car in the Planai Stadion free of charge in the meantime. You have to pay the charge for the toll road in the bus. At the cash desk Dachstein valley station you get back this money!
Group reservations (from 10 people) are made via Planai-Hochwurzen-Bahnen. Email office@planai.at or call 03687/22042-140.
Your Dachstein day!
For a stress-free glacier visit with all the highlights we recommend that you schedule around two hours.
You'll find FAQs here
DACHSTEIN TOLL ROAD IN SUMMER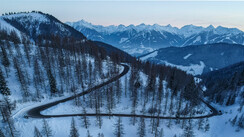 Cable car passengers can use the Dachstein toll road free of charge.
Don't forget: your toll ticket must be validated!
Please validate it in the machine at the Dachstein mountain station or at the box office of the Dachstein valley station to use the road free of charge!