Sky walk
One of the most spectacular viewing platforms in the Alps!
Beneath your feet: the 250-metre sheer rockface of the Hunerkogel. Around you: an unforgettable mountain panorama. Welcome to the Dachstein Sky Walk, the most spectacular viewing platform in the Alps!
ALONGSIDE THE MOUNTAIN STATION OF THE DACHSTEIN GLACIER CABLE CAR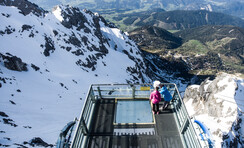 Experience unique views outwards and downwards. Perhaps with a few thrills - but don't worry, the Dachstein Sky Walk is perfectly safe. Alongside the viewing platform there is a circular trail around the mountain station of the Dachstein glacier cable car. This offers the most attractive views of the impressive south face of the Dachstein and the loveliest peaks in the Alps.