THE NATURAL SPECTACLE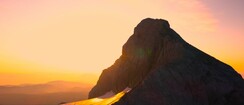 Who hasn't experienced that very special moment when the sun's rays illuminate nature for the first or last time in a day?
On the Dachstein the atmosphere is very special at the sunrise and sunset: You can savour this unique natural spectacle over deliciously fragrant coffee and a hearty breakfast or a romantic fondue.
.
sunrise breakfast dachstein
Each TUESDAY, THURSDAY AND SUNDAY from July until September 2021
The sunrise trips, which take place in summer beginning in July, are your chance to experience the moment of the sunrise on the Dachstein glacier.
The glacier restaurant team prepares an ample buffet breakfast, which provides plenty of energy to enjoy the Dachstein's great attractions including the suspension bridge, the stairway to nothingness, the Ice Palace and the Sky Walk.
The sunrise breakfast can be booked again for July to August on Tuesday, Thursday and Sunday.
| Sunrise breakfast prices 2021 | Adults and youths | Children |
| --- | --- | --- |
| Ascent and descent plus buffet breakfast | € 71.50 | € 49.50 |
SUNset on the Dachstein
Each Thursday and Saturday from September until October 2021
Float up to the glacier during the day on the Dachstein panorama gondola, watch the sunset and then tuck into a hearty fondue with a salad buffet in the cosy atmosphere of the glacier restaurant with musical accompaniment to round off the day.
The sunset package is ideal for all epicures and romantics.
It can be booked again for September to October on Thursdays and Saturdays.
| Prices sunset package 2021 | Adults & youths | Children |
| --- | --- | --- |
| Ascent and descent and evening meal | € 84.00 | € 53.00 |