The Dachstein - the medal forge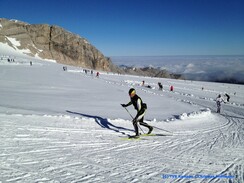 The world's longest network of glacier cross-country trails stretches out against an incomparable mountain backdrop at an altitude of 2700 metres.
From July to November the world's elite has the opportunity to enjoy ideal preparations for upcoming competitions on 1,5 kilometres of diagonal and skating trails.
Here are the foundations for medals laid.
The glacier trails are also appreciated by pleasure skiers.
In particular in autumn as many as 500 athletes from over 25 nations go to the superbly groomed cross-country trails of the Schladming and Hallstatt glacier every day.
Dachstein panorama cross-country trail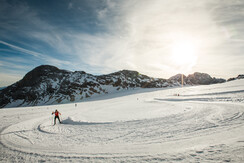 The panorama trail on the Dachstein glacier offers an interesting alternative to classic winter sports activities such as skiing and snowshoe hiking.
Synonymous with cross-country pleasure the panorama trail guarantees fabulous views and pristine nature.
The panorama trail provides an opportunity to savour powder snow and inhale pure mountain air.