THE DACHSTEIN – ONE OF AUSTRIA'S TOP 3 DESTINATIONS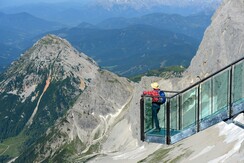 "Freedom must be boundless above the clouds" sang Reinhard Mey back in the 1980s.
And anyone who has ever been on the Dachstein glacier knows that this is indeed true.
The 2,995 metre high Dachstein is the highest mountain in Styria and is located amid a stunning alpine landscape. From the Dachstein you have a panoramic view over the peaks of Austria as far as the Czech Republic and Slovenia.
The Dachstein glacier experience
Views outwards, downwards and far into the distance
A mere-six minute trip on the Dachstein panorama gondola lift transports you into an entirely new world.
Up at the top awaits a natural paradise, far away from the hustle and bustle of everyday life, surrounded by the rugged rocks of the Dachstein massif with a view over Austria's peaks. A trip up Styria's highest peak is sure to provide moments that stay in your memory forever. A fire fantastic panoramic view as far as the eye can see and attractions such as the Dachstein suspension bridge with the stairway to nothingness, the Sky Walk and the Ice Palace.
DACHSTEIN MOUNTAIN ACTIVE
A HIKING, CLIMBING AND PARAGLIDING PARADISE
The Dachstein offers 14 via ferrata, superbly organised climbing tours, signposted glacier trails and countless hiking routes.
Anyone wishing to explore the world from high in the sky on the Dachstein also has the opportunity to paraglide.
Dachstein snow active
The Dachstein cable car not only whisks you up the mountain to an altitude of 2700 metres, but also transports you to the heart of a diverse, wondrous winter world. Ski touring, cross-country skiing & freestyle – the Dachstein offers all these activities during winter, spring and autumn-time!