Close to the sun!
The Dachstein and its many attractions are always worth a visit: When the sun shines, the snow crystals glitter; when it is cloudy, the Dachstein's impressive size is visible.
At the glacier weather conditions can change in a flash. Please have a look at the forecast to be well prepared.
Here's the current weather forecast!
Today, Saturday 03.12.2022
Many clouds with parts of sunshine
Last Update : 03.12.2022, 09:10 Clock
Source: ZAMG
Wind data
Planai Bergstation I (1902 m)
Wind: 7.4 km/h
Wind direction: Südost
Safety first!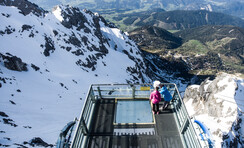 In the Dachstein mountain area there are unique weather conditions owing to its height and isolated setting.
Within a matter of minutes conditions can change completely, therefore these extreme fluctuations must be taken into account.
This also means every tour must be carefully planned and the right clothing and equipment are essential!