THE DACHSTEIN ICE PALACE – A MYSTICAL WORLD OF ICE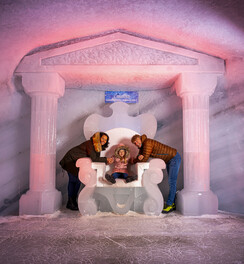 The Dachstein Ice Palace is a seductive and mystical world of ice and snow deep inside the Dachstein glacier.
Let yourself be guided six meters under the eternal ice to a time travel through history!
Created in 2007, the Ice Palace astounds visitors with intricately detailled carved figures, ice pillars & a crystal dome.
The Ice Palace is just a three-minute walk away from the mountain station of the Dachstein Glacier cable car and is open daily.
IMPRESSIONS FROM THE DEPTH OF THE GLACIER
Prices
| Prices of suspension bridge including Ice Palace and stairway to nothingness | |
| --- | --- |
| Adults | € 10,00 |
| Youths (born 2003, 2004, 2005) | € 8,00 |
| Children (born 2006 to 2015) | € 5,50 |
Notes:
Good shoes and warm clothes are recommended for the visit!
Dogs are not allowed on the suspension bridge, the stairway to nothingness and in the ice palace!
A time travel through history
Since June 2020, we invite you to join us for an icy time travel through history.
Our Ice Palace team, consisting of Hans Böhmer and Peter Strassegger, as well as the team of sculptor Michael Bachnetzer have worked attentively on the creation of some of our most important historical mile stones.
The journey through the eternal ice begins with dinosaurs and leads visitors from the old Egyptiac pharaoh Tutanchamun to the first landing on the moon. In addition, revolutionary ideas such as the lightning bulb or the locomotive are carved into ice in all their glory details.